Why is Russia invading Ukraine what does Putin want?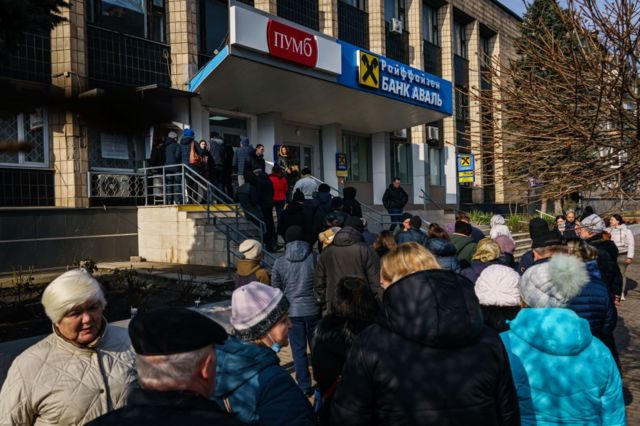 Russian President Vladimir Putin has for months denied allegations that he had plans to attack Ukraine. But this morning he announced that he had started a "special military operation" in Ukraine's Donbas region. Then, news began to be published about explosions in Ukraine's capital Kiev and other regions.
Putin abandoned the compromise and sent his armies to two areas in Donbas under the control of Russian separatists, in an attempt to "make peace," in his own words.
Russia has deployed nearly 200,000 of its soldiers to the Ukrainian border in recent months, and Western countries feared this would be the first steps of a new invasion.
What happens next may upset the security of the whole of Europe.
Where are the Russian forces being sent, why?
When Russia entered Ukraine in 2014, anti-government revolts backed by President Putin resulted in de facto control of the two eastern regions by pro-Russian separatists. Since then, clashes have continued between the separatists in Donbas and the Ukrainian army.
When Putin announced this week that he would send troops to the two areas in question, UN Secretary-General Antonio Guterress rejected Russia's use of the word "peacekeeper".
Western countries believe that Moscow is planning a new invasion of Ukraine with a population of 44 million, which borders Russia and the European Union.
To begin with, Russian tanks are reported to have arrived in separatist-controlled Donetsk.
Is Ukraine's military might enough to counter the Russian army?
How big is Russia's military force on the Ukrainian border?
Ukraine crisis: What are Russia's possible invasion routes?
Russia's invasion of Ukraine: Putin launches military action in Ukraine
Putin said Ukraine would be responsible for further bloodshed if it did not end "hostility towards those living in the east". But Russia was already carrying out a number of "fake attacks" and any of these could be a pretext for invasion.
Is Russia plotting 'fake attacks' in Ukraine?
What is the fake attack that came to the agenda with the Russia-Ukraine crisis?
What's Putin's problem with Ukraine?
Russia has long opposed Ukraine's close relationship with institutions such as the European Union and NATO.
Russian President Putin has stated in the past weeks that he is against Ukraine's membership in NATO, and asked for guarantees from Western countries in this regard. He demanded that the Ukrainian army be reduced and become a neutral country.
However, he stated that the responses from the West did not answer the real questions of Russia.
In his speech on Monday, Putin said that his country was "robbed" with the collapse of the Soviet Union in 1991.
It announced that it officially recognized the governments in Donetsk and Luhansk, which declared itself "people's republics" in eastern Ukraine, as independent states.
Where is Donetsk and Luhansk recognized by Russia and what is its status?
These two regions were taken over by pro-Russian separatists after Russia invaded Crimea in 2014. More than 14,000 people have been killed in conflicts in eastern Ukraine since then.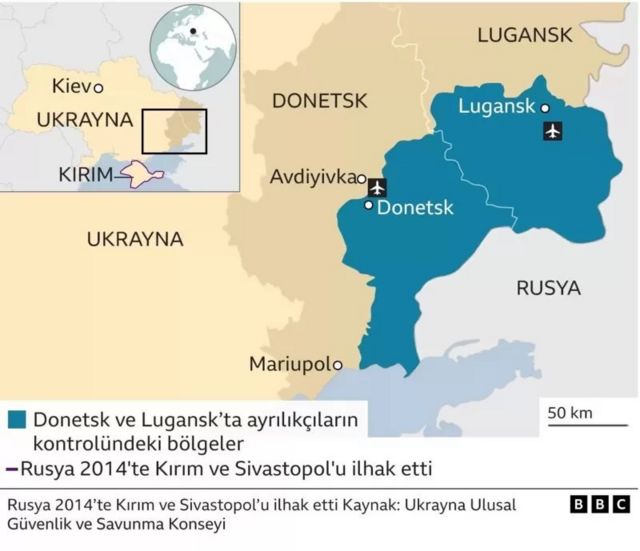 Why is it dangerous for the separatist zones to be recognized by Russia?
Clashes between pro-Russian separatists and Ukrainian soldiers in Donbas have been going on since 2014, despite the ceasefire agreement. Russia did not formally recognize Donetsk and Luhansk, which had declared themselves independent states, until Monday.
What makes the situation more serious is that these two administrations not only claim rights in areas they actually control, but also covet the entire Donetsk and Luhansk region of Ukraine.
Russia, which claims that Ukraine is committing "genocide" in this region, is making the environment suitable for a war.
He also gave Russian passports to about 700 thousand people living in Donbas. He can use the pretext of protecting his own citizens to attack.
How far can Russia go?
Putin reiterated that he has no intention of invading since he began deploying troops on the Ukrainian border. He was talking about taking "military-technical" measures if their demands were not met.
But Western countries fear that Russia may go further.
"We believe they will target Ukraine's capital, Kiev, where 2.8 million innocent people live," warned US President Joe Biden.
In theory, Russian forces could expand from the east, north and south of Ukraine, eliminating its democratically elected government.
Russians can use their troops on the eastern borders of Crimea, Belarus and Ukraine.
In Ukraine, which has strengthened its army in the past years, the military authorities immediately and for a maximum of one year armed all reserve officers and privates between the ages of 18 and 60.
What does Putin want?
Russia's request from the West was that Ukraine should never, ever become a member of NATO, and that NATO not expand its sphere of influence.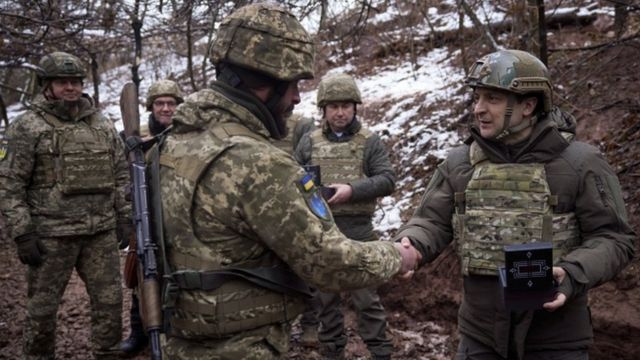 Russia signed the treaty recognizing Ukraine's territorial integrity and sovereignty in 1994.
But last year, Putin said that Russians and Ukrainians are "one nation". On Monday, he argued that the Donbas region was historically Russian territory.
He stated that if Ukraine joins NATO, the alliance will try to retake Crimea.
Other Putin's requests were that NATO not arm near Russia's borders and that the military infrastructure be reduced to 1997 levels.
This includes the countries of Central Europe, Eastern Europe and the Baltic.
Is there a way out?
It seems not for now.
France and the United States canceled their scheduled conversations with the Russian Foreign Minister. However, France and Germany stated that they are open to dialogue with Russia.
Any agreement that can be made must cover both war and arms control.