A Revolution in the Creative Industry: NFT or Digitization in Art
The digital transformation process continues to bring new concepts to our lives and change the world day by day. NFT, which brings new dimensions to phenomena such as digital property and collecting, is one of them.
In the past year, NFT talk has literally broken the internet. From platforms like TikTok and Twitter to CNN News, the trending topic has left millions intrigued. NFT's popularity has grown tremendously.
What is NFT art?
The non-fungible token is actually a digital registration form, not an art form. However, the fact that it allows art to circulate in the virtual environment and contemporary art's open attitude to innovation causes NFT to be perceived as a synonym for art. What actually happens is that technology comes to the fore in art production. NFT is building a system that supports the abstract structures of completely digital works. It registers the belonging of intangible works of art, thus providing a reliable environment for the exchange of works. It even provides a direct communication between the artist and the buyer. So NFTs are the land registers of the crypto art age. NFT, which ensures the registration of digital works and their existence in the digital environment; can be found in the form of images, songs, videos or GIFs. To summarize, NFT is a digital certificate and artworks are adapted to digital in this way.
NFT is similar to cryptocurrencies in functionality. But unlike cryptocurrencies, they are not interchangeable.
The new favorite of art lovers and economists!
While traditional institutions and celebrities are starting to exhibit their new works in NFT marketplaces, it excites the stakeholders in the market and attracts the attention of new potential collectors.
Mike Winkelmann's digital artwork 'Everydays – The First 5000 Days', also known as Beeple, sold for $69.3 million in 2021. Another Beeple piece called 'Crossroad' also sold for $6.6 million on Nifty Gateway.
NFTs empower creators to rent, sell, or display their digital artworks as they wish.
To sell them, the designers need to take some kind of 'legal' ownership of their work. Therefore, once the NFT art is created, the cryptocurrency service is 'printed' or tokenized on the Blockchain.
They are protected by copyright!
Irreplaceable virtual currencies are often intended to create copyrighted products because of their properties. For example; when an artist creates their own work of art as an irrevocable icon, they earn passive income from each sale of the product.
NFTs are digital certificates linked to unique digital assets registered on a blockchain to prove their uniqueness and ensure buyers' property rights are protected. NFT's value is tied to its uniqueness, enabling digital artists to generate income from their work. Thanks to their detailed protection systems, they cannot be copied, divided or changed. They can represent almost anything from drawings in a video game to in-game currency. No two NFTs are alike. This uniqueness and originality gives them value.
The value of an NFT comes from its uniqueness, allowing digital artists to leverage their work. Cannot be copied, divided, modified. No two NFTs are alike, and this uniqueness and scarcity adds value to them.
From painting to music, from movies to sports!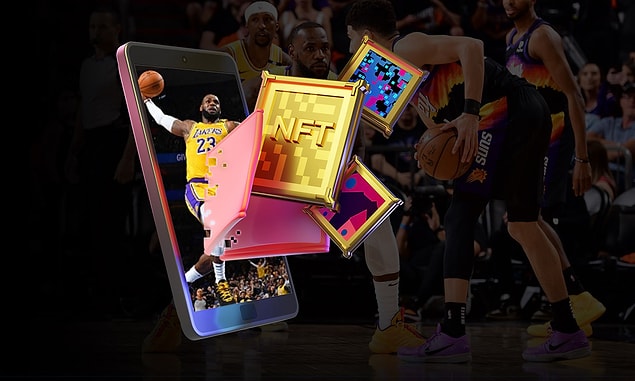 In 2021, the total sales volume of NFTs reached 12 billion dollars. NFTs are making a big impact in collectibles, games, music, movies, sports, fashion.
Using NFTs, musicians can specify their work on blockchains. Rock band Kings of Leon released their first album as an NFT. NFT generated $2 million in sales, about a quarter of which was donated to charities. American rapper Lil Pump has partnered with NFT platform Sweet to release an exclusive NFT collection.
Adam Benzine's Oscar-nominated documentary Claude Lanzmann: Specters of the Shoah became the first motion picture, documentary, and Academy Award-nominated film to be published and auctioned as an NFT.
Legendary Entertainment has launched a special Godzilla vs. Kong announced the release of his NFT collection; The horror movie Killroy Was Here was released as NFT.
NBA player Spencer Dinwiddie tokenized his contract so others can invest. Dapper Labs has teamed up with the NBA to create 'N.B.A Top Shot', a marketplace for digital highlight clips. Professional tennis player Oleksandra Oliynykova offered potential buyers the lifetime rights to a portion of her right arm with an NFT. In 2021, a LeBron James dunk NFT card on the NBA Top Shot platform sold for $208,000.
In addition to digital art, famous fashion and accessory brands also transform their products into NFT projects. For example, Jacob & Co. The NFT watch released by the brand made a great impression.
Nike has received a patent that allows blockchain technology to attach cryptographically secure digital assets in the form of NTFs to physical products such as a pair of sneakers under the name 'Cryptokicks'.
A new way to generate income!
NFT art is a new way of categorizing digital artworks that allows designers to monetize their work. The fastest process and most accessible way for designers to generate work and reap the rewards of creativity. No chasing customers for payment, no modifying and tailoring work to a customer's needs.
Some NFT artworks come with a royalty fee to the artist, meaning that each time the artwork is sold, the artist can receive 8-10% of all future sales.
Most expensive NFT artifact: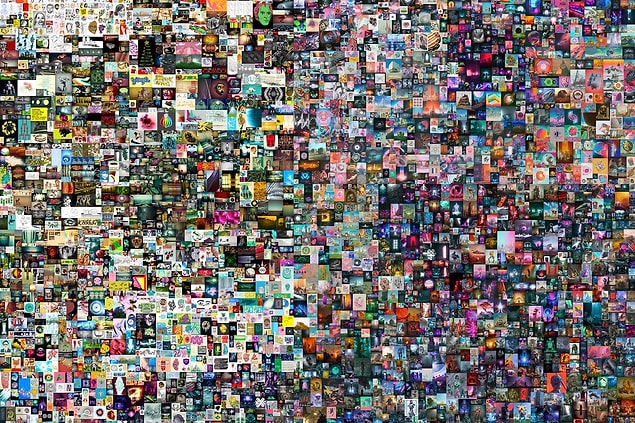 The most expensive piece is a digital art collage by digital artist Mike Winkelmann, also known as Beeple. The artwork was purchased by crypto billionaire MetaKovan for $69,346,250. After the sale, Beeple's Instagram followers reached millions. He has also worked with brands such as Nike and Louis Vuitton, as well as artists such as Childish Gambino and Katy Perry.
Jack Dorsey, CEO and founder of Twitter and Square, put his first tweet up for sale as a work. The first tweet in the history of Twitter received a buyer for approximately $ 2.9 million.